Barcelona, Spain – February 26th, 2018
The GSMA Mobile World Congress is the world's largest for the mobile industry, incorporating a thought-leadership conference that features prominent executives representing mobile operators, device manufacturers, technology providers, vendors and content owners from across the world.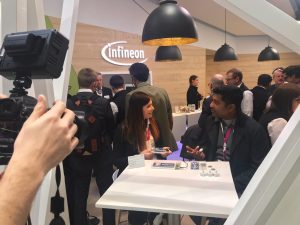 This year's Mobile World Congress has proven it's going to be an exciting year for technology, especially for wireless charging. In years past, one would be hard pressed to find a wireless charging product on the exhibition floors. This year was different. With Apple adopting wireless charging technology for the iPhone as well as phones like the Samsung Galaxy S9/9+, Sony Xperia XZ2 and Nokia 8 Sirocco there was plenty of momentum. The excitement was in the air with a sense that wireless power has finally arrived.
"We are very excited to launch our new wireless power products at Mobile World Congress this year and the reception and customer interest has been extremely positive. Spark Connected was the only company to show case multiple wireless charging technologies – for smart phones and applications beyond charging phones – including inductive and resonant solutions," said Ruwanga Dassanayake, Chief Operating Officer for Spark Connected.